Tampa Riverwalk Scavenger Hunt Clues
When you discover a treasure take a selfie showing the prize you found, post it to your IG story, and Tag FunTampa & TampaBayisAwesome 🙏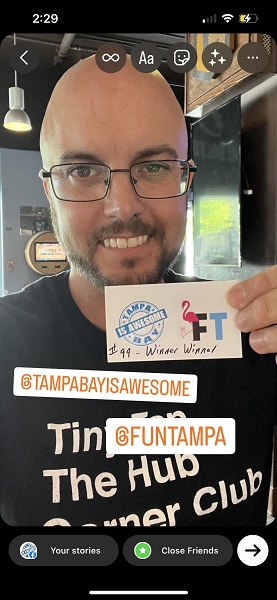 $2000 | 55 Prizes
| | |
| --- | --- |
| 1 | "Home of the Sail" |
| 2 | "Use Franklin St Crosswalk" |
| 3 | 15 paces off the dock to Waterworks |
| 4 | 4 planters, yeah, why not |
| 5 | Above the Wars End |
| 6 | Almost there, just put some air in the tires! |
| 7 | Be careful on those train tracks! |
| 8 | Between 2 blue signs |
| 9 | Bridges, Firehydrants, and treasure oh my! |
| 10 | Closest White Chair to throw a stone |
| 11 | Come on Straz, a rusty gate? You are better then that! |
| 12 | Concrete barriers to metal handrails, why not just keep it consistent? |
| 13 | Does this bridge ever really open? |
| 14 | Fortune Taylor has gotta be thirsty |
| 15 | Fowler's all the way down here on Riverwalk. |
| 16 | Grab your bike, it's only 2 miles back to Sail |
| 17 | I hope there are no trolls near Ulele |
| 18 | I hope this drain pipe doesn't flood the tunnel |
| 19 | I loved my Fisherprice version of this instrument |
| 20 | If you only had a map… |
| 21 | Ignacio Haya probably wants to sit down |
| 22 | Is this building EVER gonna start contruction?!? |
| 23 | It's almost a mile! |
| 24 | It's only 3 flights, you can do it! |
| 25 | Just floating till someone finds me. |
| 26 | Kate has never been able to see a Duck Race! |
| 27 | Let's catch the Water Taxi! |
| 28 | Let's get behind our "US Military" |
| 29 | Let's go bulls! |
| 30 | No fishing under bridges! |
| 31 | Perfect spot for the birds to wear green and gold |
| 32 | Please don't climb the wall near the crosswalk |
| 33 | Really Ray, astro turf? |
| 34 | Regions apparently is into electriciy and lights too |
| 35 | Romantic view of Julian B Lane |
| 36 | Run fido! Now jump! Climb! |
| 37 | Sail away up the stairs to Straz |
| 38 | Seriously? You opted to not have a staircase connected to Riverwalk? |
| 39 | Sit down, "Faith is the first step even when you don't see the whole staircase." |
| 40 | Slowdown on this turn near the Marriot |
| 41 | That's a nice view of UT |
| 42 | The 1st People planted lots of trees |
| 43 | The birds are not welcome at the Sheraton |
| 44 | There sure are a lot more staits than I thought… |
| 45 | These rocks could be a decent chair…probably not |
| 46 | Tie your shoes before crossing Cass Street! |
| 47 | Under Street Laced |
| 48 | Wave the flags and represent! But incase of emergency you are covered too. |
| 49 | Whoa, toro! Don't step on me |
| 50 | Woven Waves art is pretty cool |
NEXT EVENT: Ybor City Scavenger Hunt
$5000 | 130 Prizes
We are getting out bearings with Event #1 at Sail, Round #2 is on deck to be EVEN BIGGER and BETTER! 
The first event SOLD OUT in less than 24 Hours!
Next round will be on Sat, July 15th at 10:00am
We will be making official announcements and releasing tickets through social media June 3rd, BUT SINCE YOU ARE HERE you can get in on early registration which will open up for all Round #1 participants Thurs, June 1st after the event.